Vehicle catalog database

It is the data that provides the foundation of utilized information for vehicle.
What is the vehicle catalog database (vehicle DB)?
It collects data such as grade, standard equipment, options, value information, images, etc. for each model, and converts them into a DB.
The vehicle DB has been created based on the catalog issued by the manufacturer, and it is possible to be utilized as the basis of vehicle information.
Data contents
It covers domestic cars * 1 * 2 and major import vehicles. (From Oct 2000, until the latest)
Each vehicle model / grade is allocated for a specific code, and all categories, specifications, various tax amounts, option information, etc. are connected to the allocated code.
Concrete examples of detailed data items are here
*1 Some special edition vehicles is not provided.
*2 For trucks, record to catalog models under loading capacity of 2 tons
How to use
1 Features of vehicle catalog database
This table please swipe left or right.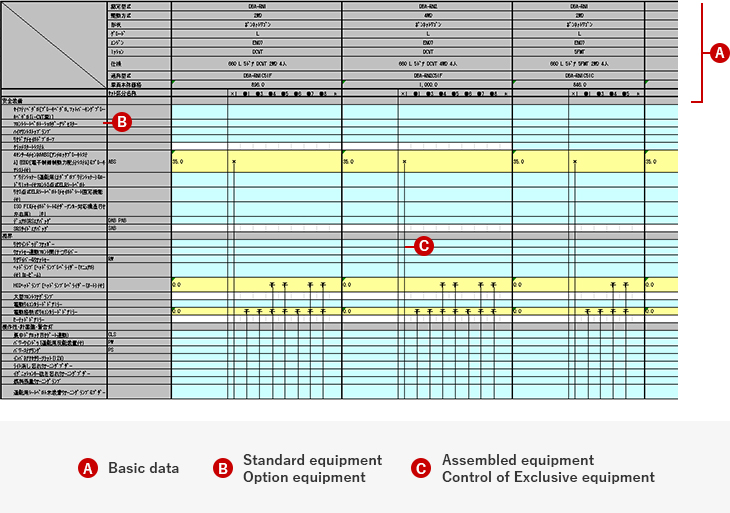 Around 130,000 grades are recorded, and an unique vehicle code is allocated for each car model.
Each specific vehicle code is connected to its basic data (specification information etc.) and equipment data (body color, options, etc.).
For various options, it is possible to distinguish manufacturer options, dealer options, etc.
It is possible to let the system automatically judge the equipment to be a set or a combination that does not exist.
We also manage the standard price of the vehicle, manufacturer option, dealer option equipment price, optional prices by body color.
2. Example in various phases
When specifing / managing vehicles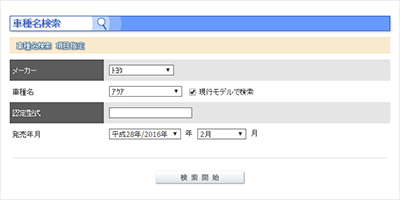 Possible to confirm vehicle, search information with the following keys.
Manufacture name, category,
certified model, first registration
Model number, classification division number
Vehicle code (our own setting)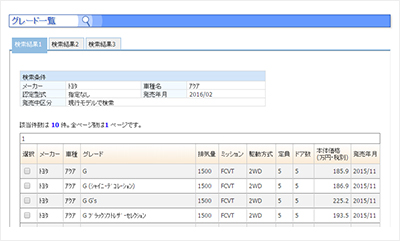 By using our vehicle DB as a master of enterprise system or EC site, it is not only more convenient for users but also provide foundation data for users' future analysis.
When displaying vehicle information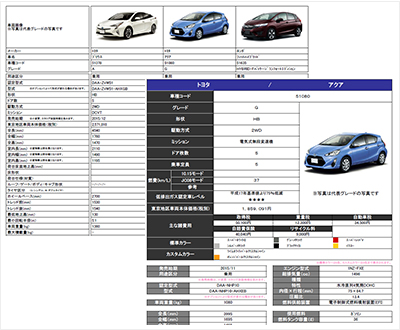 For each vehicle, we manage the following information.
Vehicle image (1 catalog 1 image)
Color information (all body colors listed in the catalog)
Spec information (full length, full width, driving, fuel consumption, etc.)
Various expenses (acquisition tax, recycling fee, etc.)
You may use our vehicle DB as catalog data when you propose to your customers, or use it to display vehicle information on EC sites.
3. Example for your service
Examples to your products, systems and services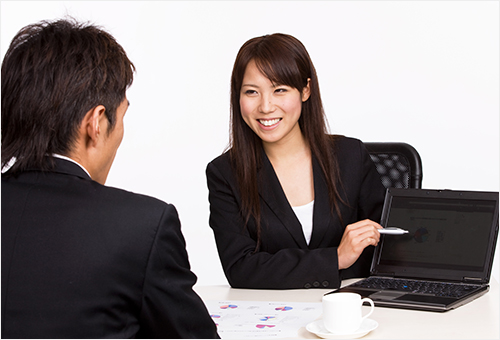 Use as vehicle master for enterprise system.
Use as foundation data for vehicle estimation system.
Utilize as vehicle specifying function for used vehicles purchase assessment system.
The accumulated data may be used as basic data for analysis.
There are various usage besides the above.
We are also able to consult about how to utilize contents based on past examples.
Please do not hesitate to consult us.